News
Scott Family Amazeum Honored with Traveler's Choice Award
Amazeum Recognized Among Best in Family Destinations, Based on Outstanding 2019 Reviews
Bentonville, AR – August 25, 2020 – The Scott Family Amazeum today announced it has been recognized as a 2020 Travelers' Choice award-winner for Family Destination. Based on a full year of Tripadvisor reviews, prior to any changes caused by the pandemic, award winners are known for consistently receiving great guest feedback, placing them in the top 10% of hospitality businesses around the globe.
"The entire team at the Amazeum is dedicated to making every day amazing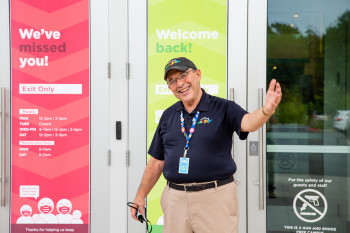 for our guests of all ages," said Paul Stolt, Marketing Manager at the Amazeum. "Our dedication creates a personal connection with guests that supports curiosity, creativity and playful exploration of science, technology, engineering, arts, and math (STEAM) through hands-on, interactive experiences that inspire and educate. We appreciate our guests for giving us the opportunity to share experiences and welcome them to wonder, explore, discover, create, and play when they are ready to venture out."
Information on COVID-19 health and safety measures in effect can be found at amazeum.org.
"Winners of the 2020 Travelers' Choice Awards should be proud of this distinguished recognition," said Kanika Soni, Chief Commercial Officer at Tripadvisor. "Although it's been a challenging year for travel and hospitality, we want to celebrate our partners' achievements. Award winners are beloved for their exceptional service and quality. Not only are these winners well deserving, they are also a great source of inspiration for travelers as the world begins to venture out again."
To see traveler reviews and popular exhibits at the Scott Family Amazeum, visit tripadvisor.com.
About the Scott Family Amazeum
The Scott Family Amazeum is an interactive museum for families founded on creating rich learning experiences that integrate science, technology, engineering, art and math (STEAM). With an emphasis on making and tinkering, the museum supports a creative, curious community in exploring and questioning the world. The museum's 50, 000 square foot exhibit space contains permanent experiences including the 3M Tinkering Hub, Hershey's Lab, Market sponsored by Walmart, General Mills Lift, Load & Haul, Nature Valley Water Amazements, Studio Grow sponsored by Pampers, and other exhibits for children of all ages. An acre of outdoor space provides ample space for free-range play. The Amazeum welcomes over 250,000 curious and creative guests a year. The Amazeum is a 501(c)3 non-profit organization.
About Tripadvisor
Tripadvisor, the world's largest travel platform*, helps 463 million travelers each month** make every trip their best trip. Travelers across the globe use the Tripadvisor site and app to browse more than 860 million reviews and opinions of 8.7 million accommodations, restaurants, experiences, airlines and cruises. Whether planning or on a trip, travelers turn to Tripadvisor to compare low prices on hotels, flights and cruises, book popular tours and attractions, as well as reserve tables at great restaurants. Tripadvisor, the ultimate travel companion, is available in 49 markets and 28 languages.