Maker in Residence, Maker
Meet the Maker: Maxi Dominguez
Have you ever met someone so overflowing with creativity that you wonder what they're going to think up next? Maxi Dominguez, artist, entrepreneur, community activist and Amazeum Maker in Residence is one of those people. Maxi joined the Amazeum team for a residency to facilitate screen printing sessions for adults and teens and brought with him a diverse perspective on the importance of creative thought and action to impact individuals and communities.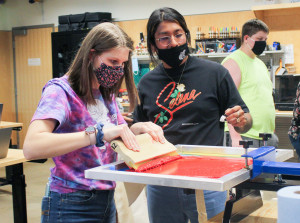 Born in Argentina, Dominguez recalls discovering creative activities at an early age from his mother who supported his various explorations of materials, tools and techniques and provided the opportunity to attend art school. "With her support and creating that space for me really allowed me to explore," says Dominguez. "Now as an adult, I've really embedded those principles in my career and try to create and emulate the great positive experiences from my upbringing to other people in my community and communities all over." Trusted adults are often the first and most impactful mentors to help develop creativity and curiosity in children.
Dominguez, like many makers, was always curious and creative. Making felt natural. However, he believes people are not born with a desire to be a maker, but grow into making when exposed to something, someone or someplace that allows space for inspiration. For Dominguez, "inspiration is the key to take [an idea] to the next level, to bring an idea to life." He tries to create the opportunity for others to be inspired and discover their creativity believing that there is a kind of "mystic element to [creativity] that makes it important" to build communities where makers and making can expand. "I think that people who don't think they are creative have not had [access] to the positive spaces that encourage their natural creativity. Everyone is creative," says Dominguez.
"I think that people who don't think they are creative have not had [access] to the positive spaces that encourage their natural creativity."
A "self-proclaimed" interdisciplinary artist and maker, Dominguez began making with cut and sew projects. Working with textiles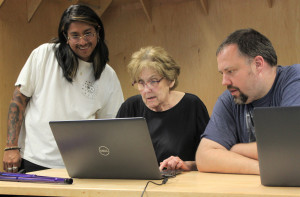 continues to be an important part of his creative work, which now incorporates digital fabrication, graphic design, photography and videography. His work bridges digital and analog processes to create. "I'll use a laser cutter to cut denim and then use that as patchwork in my creations," says Dominguez, who also combines business and entrepreneurship with making to develop a number of businesses and La Rosa Collective a space equipped with tools and mentors where people can go to explore ideas. "I want to create this platform for people because it was a climb up for me," says Dominguez. "I had to figure out things on my own with YouTube, Google and forums. I still see a lack of support for creativity in youth. La Rosa Collective is really about addressing that."
During his sessions at the Amazeum, participants learned not only the process and technique of screen printing, but also a holistic philosophy of making that fuses passion and creativity with business/entrepreneurship and community. Even with the inclusion of art into STEM, people often struggle to see the value of creativity in science, technology, engineering and math largely because of how art is defined. Creativity is seen as the provenance of artists and makers, those who color outside the lines, get messy, and don't necessarily follow the rules, the opposite of the perception of scientists, technologists, engineers and mathematicians.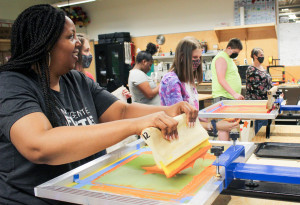 "It's not about being able to draw; it's simply being able to explore your interests. That makes you an artist. You are an explorer," says Dominguez. Exploring is part of the Amazeum DNA leading to developing a curiosity that opens new opportunities. "It's so beautiful when youth and adults anchor themselves in that idea," continues Dominguez, "because at the end of the day they become teachers themselves."
"I think that we're in a revolutionary place within society," says Dominguez. "We're starting to expand and broaden our perspective of what making, art and creativity actually entails." Creative thought and action enhances innovation. "Now we're starting to see that [creativity and the sciences] coexist." Recognition of the value of creativity and curiosity bridges the arts and sciences and connects cultures, communities, ideas and results in diverse perspectives. "It is so amazing and critical that we continue to develop this bridge . . . we're going to see a much more flourishing society as we coexist in this world," Dominguez concludes.