Maker in Residence
Meet the Maker: Acadia Kandora
Makers, artists, and creatives are fascinating to talk with. While everyone has a story, and is often willing to tell it, makers not only tell, they show. Each maker's story begins not with a blank slate, but on one etched with life experiences. Their story unfolds with visual aids of their own making adding depth and richness to the narrative. A recent Maker in Residence at the Scott Family Amazeum, Acadia Kandora, is a case in point. As a print maker, she creates in a medium that couples images born from imagination and experiences with words to tell her story.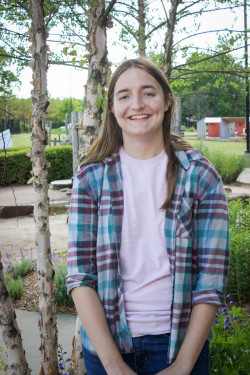 When asked about their creative pursuits as children, makers often describe a childhood filled with curiosity and imagination. "I was always taking things apart," Kandora says. "And I loved taping bottles together. My mom would tell me about all these weird bottle sculptures and how much I loved tape." Kandora also found materials in nature to incorporate into her creative pursuits. The birch trees surrounding her home provided the materials and inspiration as she made the swords, bows and arrows with which to slay dragons and protect her realm.
Kandora's frequent moves as a child exposed her to the diversity of natural landscapes, and she developed a special relationship with nature, especially the woods. "I started examining my relationship to nature and the ideas of nature as both sanctuary and armor," says Kandora. As the world shut down and connection with people become infrequent during the pandemic, Kandora began documenting why being in the woods was so important for her and discovered interesting conclusions that formed the basis for her master's thesis. And a number of tactile narratives in printed form (Kandora refers to them as 'zines) that tell her story.
Printmaking checked a number of creative boxes for Kandora. Originally a student of graphic design, she realized that the largely computer-based discipline left her without the tactile input she craved. "I took a print class and fell instantly in love," says Kandora, "I'm a very tactile artist." The ability to play with color and create multiple images further drew Kandora to printmaking. "I'm kind of a 'mad scientist' in the studio experimenting with color and process. It's exciting to make an image look the best it can and then make a bunch to hand out to people," she says.
"I'm kind of a mad scientist in the studio experimenting with color and process."
Printing is a wonderful example of integrated STEAM (Science, Technology, Engineering, Art and Math) disciplines. The process of making prints evolved (as most processes do) as technology advanced and new methodologies emerged. With origins in China using carved blocks of wood and stone, block printing solved a critical problem for civilizations by making the dissemination of information easier.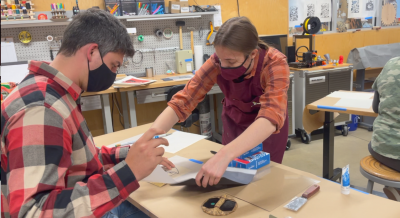 Wood block printing sufficed for centuries, until more detailed images were required. The invention of lithography in 1796 provided a way to print high quality reproductions of printed materials and artwork using a process dependent on the immiscibility of oil and water. Printmaking continues to be a very analog process-oriented media, although digital devices are now used to design and develop plates (durable master copies of creative work) that can be re-inked and reused to reproduce art.
"There's a lot of science in printmaking," says Kandora. Contemporary printmakers are pushing the boundaries of what is an analog process with new technology. "I'm a big fan of using a laser cutter and drawing things digitally and then making prints from my digital drawings," she says. Leading sessions in the Amazeum Workshop provided her the opportunity to make those STEAM connections, and, in the process, sparked curiosity in the community to explore their own personal brand of creativity through printmaking.