Meet the Maker: Acadia Kandora
Long before laser printers, copy machines or the mimeograph (ooh, that smell) made the reproduction of images and text simple and efficient, block printing revolutionized the reproduction of art and dissemination of information.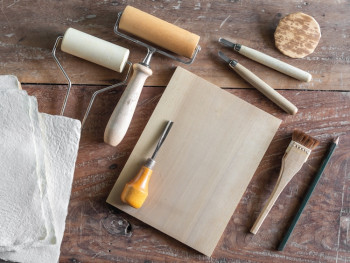 For centuries, carving images in wood blocks, inking, and transferring the image to paper, cloth or another material served as the only way cultures around the world created and copied creative work. This time-honored process of hand-making printing plates continues today.
Maker in Residence Acadia Kandora and the Amazeum team lead sessions in printmaking during May. Using traditional relief print tools and techniques combined with laser cutters and graphics software applications, participants in this session create their own unique printed trading cards.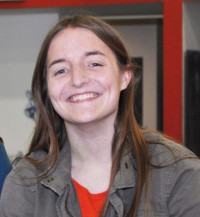 Acadia Kandora is a printmaker, rock collector and nature enthusiast. She is currently pursuing her MFA in Printmaking at the University of Arkansas (expected grad. May 2021) and holds a BFA with concentrations in both Graphic Design & Sculpture from Shepherd University. She has exhibited both nationally and internationally in cities such as Baltimore, Indianapolis, Oklahoma City, and Korpo, Finland. Her work revolves around nature, landscape, and the intersection between the imaginary and the concrete.
Acadia joins the Amazeum team as a resident Maker/Artist in May, 2021, to introduce printmaking tools and techniques to anyone curious about printmaking. Sessions with Acadia are open to the public. Registration begins in April 2021.