Maker
Artist Spotlight: Elysia Contreras Springer
Infants and toddlers are naturally curious explorers who experience bits and pieces of their world and learn to understand it by touching, looking, and doing a little taste test quite often. Some of these bits and pieces however are not made for a safe afternoon snack, but Artist Elysia Contreras Springer solved that problem with ReggioBaby sensory toys.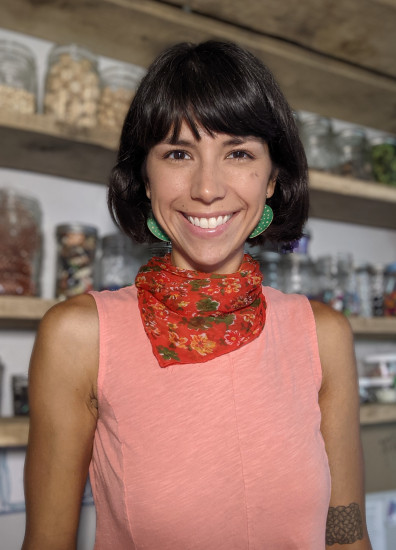 Elysia is an artist, educator, curriculum coach, and mom to two young "studio assistants". She holds an MA in Curriculum and Instruction for Early Childhood Education, and BFAs in Interdisciplinary Arts and Art History. Elysia founded ReggioBaby LLC after over a decade of facilitating creative experiences in early childhood classrooms.
Based in Northwest Arkansas, ReggioBaby is inspired by the Reggio Emilia approach to early education. This is an "educational philosophy based on the image of a child with strong potentialities for development and a subject with rights, who learns through the hundred languages belonging to all human beings, and grows in relations with others." ReggioBaby takes this approach and has created a tangible multimedia product that promotes critical thinking, problem-solving, education, and early exposure to the creation of materials. They hope to extend the practice of intentional guidance and exploration to children through their sensory toys.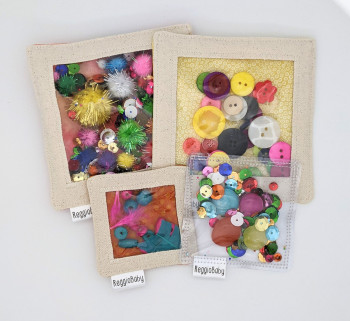 These beloved items range from fabric pouches to fine motor skill toys. These sensory toys are crafted from a variety of materials such as canvas fabric, thin clear vinyl that is easy to clean, and miscellaneous textures that are tucked away safely inside in a way to promote play, exploration and are durable to endure rough play (and love). These toys go through a unique testing process by real infants and toddlers (who are surprisingly judgy). "These products have been carefully observed, inspected, washed, and critiqued by real educators, teachers, and parents who are willing to get messy and learn alongside our babies." (ReggioBaby Etsy Shop)
ReggioBaby took the concept of regular toys for small children and enhanced it with characteristics that both parents AND children can appreciate and enjoy. They take materials that would usually be inaccessible to young children so they can still experience it without risk and be more in tune with the world around them. From natural materials like wood, seashells, eclectic puffballs and metal bolts that satisfy the curiosity your child has. Each multi-sensory pouch has been crafted with love and had its materials individually curated with carefully chosen fabrics.
These products have moved beyond the infant and toddler classroom, and have shown that they provide beneficial sensory feedback for people of all ages and stages.
"Why ReggioBaby? We believe in the early introduction of a multitude of materials to promote problem-solving, the love of learning, and early mastery of material processes. We are greatly inspired by the Reggio Emilia philosophy of early education, and hope to extend the 100 languages of potential to our children." (ReggioBaby Etsy Shop)