Hive Minds and Transient Networks
by Sam Dean
As we enter into what we all hope are the later stages of the COVID-19 pandemic, I find myself looking back on the past fifteen months and thinking about lessons learned. Chief amongst those is my gratitude for the support we have given and received throughout the museum field —so many calls and so much information sharing! But also, as I think about how we've navigated the pandemic, I realize how much we've all needed to form new partnerships, ways of working, and transient networks to navigate all of the various pitfalls that have presented themselves over the year. Below are just a few networks that have been important to us here at the Scott Family Amazeum in Northwest Arkansas.
Deciding to Close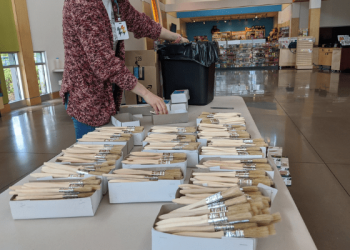 In the earliest days of the pandemic, so much of our work was driven by a lack of cohesive information or guidelines coming from the national public infrastructure. There was a lot we didn't know about how to deal with COVID, and even more we didn't know we didn't know. In the absence of timely and consistent guidance from our civic sector, we found what we needed from our colleagues in the business community. With world-wide facilities, as business leaders prepared for what they needed to do for their businesses, they consulted world-class experts. Being able to tap into that expertise and foresight was crucial for the nonprofit community. On March 13, many Arkansas cultural institutions, in consultation with each other, decided to close to public visitation. A statewide mandate followed a couple of weeks later.
Thinking Together
During the pandemic, an existing, informal information- and expertise-sharing structure has been a key anchor for us in new ways. Every Monday morning, a cross-section group of community leaders in the Bentonville, Arkansas, area meets to share what is happening in their particular sectors. This group includes the mayor, the county judge, the school superintendent, representatives from the visitor and convention bureau, Chamber of Commerce, downtown association, the largest local philanthropic foundation, our largest local employer, and the three larger cultural attractions in the city. The goal of these loosely structured meetings is to make sure each of us understands what everyone else is doing at any given time with our agencies and organizations. During the pandemic, the meetings became a critical communication pathway and tool for collective problem-solving. I don't know how we could have survived without the chance to do regular scans across the different community sectors to put together so many pieces of a jigsaw puzzle when we didn't even know what the final picture would look like.
In the absence of timely and consistent guidance from our civic sector, we found what we needed from our colleagues in the business community… Being able to tap into that expertise and foresight was crucial for the nonprofit community.
As an example, the superintendent of the local school system needed to understand where the world of kids and families intersected with that of public health as the schools were placed under state emergency directives to offer an in-person schooling option by the fall of 2020. With much of the community still in lockdown, the school district was developing policies and making their meetings and minutes available via video conference. Being able to tap into their deliberations and assembled expertise provided the basis for many of our own decisions about our reopening plans. We were able to refine these plans in consultation with one of the school committee leaders, as well as three respected local physicians.
Interestingly enough, when looking for guidance on safety, the head of Bentonville's Parks and Recreation Department became a key sounding board. In some ways, the Community Center they operate was one of the closest analogs to the interactive, hands-on environment of the museum in the region. Many other cultural institutions in the area are object- or performance-based, with different audiences and a very different style of interaction. As part of the city government, Parks & Rec had a close association with the Health Department. We learned what kinds of recommendations were being made, and what safety measures they determined were acceptable in a hands-on, activity-rich environment. I frequently spoke with the director as we navigated our decision-making, particularly in the first three months of the pandemic.
Pandemic Bartering and Support Systems
In the first months of the pandemic, procurement of personal protective equipment (PPE) and the materials needed to clean and sanitize our building was such a challenge that a strange new market for goods and supplies emerged. Some days the scene felt straight out of a back streets movie script. In one example, the head of the local Boys and Girls Club was able to procure a large quantity of disposable masks from a board member who was able to tap into his overseas factory chain to get a direct plane shipment. Fortunately, he was willing to share the masks with community organizations like ours. The larger regional chamber of commerce was able to secure a truckload of hand sanitizer, and hosted a pop-up sale to help distribute it to local businesses over a weekend. Distilleries, unable to entertain whiskey-loving visitors, used their equipment to create sanitizer to help make ends meet, while meeting the incredible demand for a scarce product. I can't say how many conversations I had with people that started with, "So where are you on hand sanitizer?"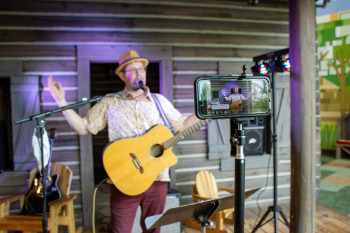 Existing cracks in local social services programs became even more pronounced, and new partnerships formed help fill widening gaps. With schools and other community children's gathering centers closed, getting foods to families in critical need was a challenge. So a neighboring museum, Crystal Bridges Museum of American Art, put a team to work creating meal packs for thousands of families and organizations like ours created learning components to go into each box. Inspired by that work, Amazeum worked with a local food vendor and secured additional funding to continue providing food for a few thousand more families.
Finally, knowing the creative community was one of the hardest hit, the museum sponsored Lunch Tunes, hiring musicians to livestream over a series of lunch hours, providing paying gigs for musicians and opportunities for our team and the community to come together over lunch and listen to a little local music, even while remaining apart in their homes and offices.
Advocacy and Relief Systems
With so many different needs to attend to in the museum, and decisions happening so quickly in the statehouse with regard to relief efforts, it proved challenging to be present on the state level to help committees understand the situation of cultural institutions like ours. Visit Bentonville, our Visitor and Convention Bureau, became one of the most vocal advocates for Amazeum down in the capital. It was critically important for the museum to be seen not just as a place to visit, but as a small business and economic generator for the community. With strong voices from the tourism advocacy groups leading the way, private, nonprofit museums became incorporated into key relief opportunities that helped pave the way for our sustainability, along with that of many others.
Later Stages
As we shift into this later stage of the pandemic, I see us reactivating some of these early connections to understand how we open up more fully, transitioning from some of our current, self-imposed restrictions, such as capacity limits and masking policies. What are the right next steps? What is being done around vaccination policy? How can relatively vague guidance from public health be shaped into safe workplace policy? Working to create consistent responses for our team, our audience, our business colleagues, and our community is an important step to help bring our organizations and region along with us during the recovery—and we have a long way yet to go. Moving forward, we hope to retain some of these transient, cross-sector network connections to keep building on— both for our everyday work, and to lay a more robust foundation ready to respond to future unknowns.
Most importantly, I am so grateful for the collective mindshare that was offered over the last fifteen months. More so than any other time, certainly in my career, it took a hive mind to create the timely solutions and support to get to where we are now. Thank you all—we are so grateful you synapsed with us!